In traditional retail sales, point of sale marketing, or point-of-purchase marketing, is when you place related, often lower-priced, items close to the terminal where the customer will make his or her purchase.
As they shop 😀 customers 😀 can quickly take a look at these items and decide whether or not to give in to the impulse to add one or more to their purchase.
And it works!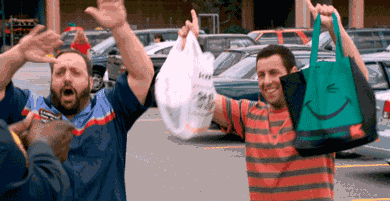 Just think about the last time you visited your favorite retailer and gave in to – or resisted – the temptation to add those last-second items to the 🛒 as you were waiting to go through the checkout.
Online point of sale marketing works much in the same way, except it's a page on a website instead of an aisle in a store where products are offered that are similar to those that the shopper has added to his or her online cart.
Point of sale marketing encourages impulse purchases and raises your average transaction value and customer profitability, making it an important part of any retail business's marketing strategy – whether it's brick and mortar 🏪 🏬 or online 🌎.
Use the following effective point-of-sale marketing ideas to boost sales at your business.
Ideas and Tips for In-Store Point of Sale Marketing
#1 Product Placement
If you own a brick and mortar store, you'll need to consider a few factors in setting up point of sale displays.
For one, you'll want to make sure that the 📍 location 📍 and chosen product make sense.
Say that your chosen product is a snazzy water bottle. What placement would most likely to trigger the impulse to purchase it? Next to products related to sedentary activities – such as video games – or next to products related to physical activity – such as your yoga clothing line?
Another key factor is that you should be sure to use data from your point of sale marketing system to determine which of your products are typically purchased together and then decide which items you'll put together on the display.
For example, if you own a kitchen gadget store, and your customers typically purchase a 🍕 stone ($60) and a pizza cutter ($10) at the same time, then you know that placing these items next to one another will likely result in a boost to your sales.
#2 Design Continuity
You'll also want to consider the actual design of your display.
Make sure that it's visually appealing and that it aligns with the feeling that you're going for. The more seamless, the better.
If your vibe is sleek and modern, then make sure you consciously design your display to reflect that vibe.
#3 Promotions and Deals
Use point of sale marketing to showcase any deals or promotions you're offering.
Create clear signage that tells your customers how they can save more 💲 💰 💵 by taking advantage of these deals.
For example, if your customers can bundle products to receive 10% savings, place these products next to each other and make sure your display clearly conveys this deal.
#4 Change it Up
Don't offer the same promotions all the time.
Switch up your displays and switch up your deals. This will give your customers that fresh "I just saved" feeling every time they enter your store.
If you don't change it up, the feeling will fade, and that translates to lower 📉 sales.
Ideas and Tips for Online Point of Sale Marketing
#1 Promote Additional Products
When your customer is busy purchasing from your online store, make sure you convey the advantages if they decide to purchase additional products.
If, for example, customers get free shipping when their 🛒 total reaches 💲30 or they get a discount for spending more than 💲50, then make sure they know it!
That said, you need to be sure that your messaging doesn't accidentally distract the customer from their original purchase.
So instead of a full screen "takeover" that promotes another product, you may want to use a small pop-up or slide-in message that says something like "You're just 💲5.00 away from free shipping."
#2 Feature Items that Complement
On your checkout page, feature items that complement the items that your customer has added to the cart.
Since your customer has already decided to purchase such items, you can expect them to at least consider making these additions.
For example, if your customer has added a pair of 👟 to their cart, it makes sense that you would feature accompanying shoelaces or socks.
#3 Remind Customers of Recently Viewed Products
As customers shop, they inevitably scan through items that interest them but that they ultimately forget about by the time they "arrive" at checkout.
Consider reminding your customers of these items at checkout.
The goal, of course, is that this quick reminder could get them to make the addition at checkout and result in a bigger 📈 sale 📈.
The Bottom Line
Whether you've got a brick-and-mortar store, an online shop, or both, it's time to maximize your upselling opportunities through point of sale marketing
Capitalize on the fact that people who are ready to purchase – and who may have purchased in the past – already believe in your products and services and, at the same time, make it convenient for them to enjoy the benefits of other products and services you offer.
Tagged with:
---
Share Your Feedback